For us Indians, Bollywood is important. It's essential to our overall existence. From religiously following our favourite film stars to copying their styles and moves – we agree that we take Bollywood very seriously.
So why should it not be a part of the wedding celebrations? Sure, there's lots of dancing on popular Bollywood numbers. But what about incorporating the stars' effortless fashion statements at the weddings?
And here, we are not talking about what the relatives or guests should wear. We are addressing the groom – yes, you here. Read on to find out which Bollywood actor's ethnic style (our favourite!) would you copy for the functions:
1. Saif Ali Khan
He is the "Nawab of Pataudi" – naturally, he has a royal style which is impeccable, tasteful and admirable! He, undoubtedly, looks dashing in a simple "kurta" and "pajama" – topped with a stunning, regal looking nehru jacket. Oh, and he never forgets to neatly place a pocket square in the left pocket. This look is perfect for day receptions or even small religious ceremonies.
2. Amitabh Bachchan
He is a superstar! Even at the age of 73, the legend looks like a billion bucks. Whatever he wears or does instantly becomes a trend and we can't blame him for that. He is, after all, the "shehenshah of Bollywood".
His one particular fashion choice that really made an impression was the heavily embroidered "kurta" that he wore while walking the ramp for Ritu Kumar several years ago. That "kurta" had intricate floral patterns that were sewn with "zardozi".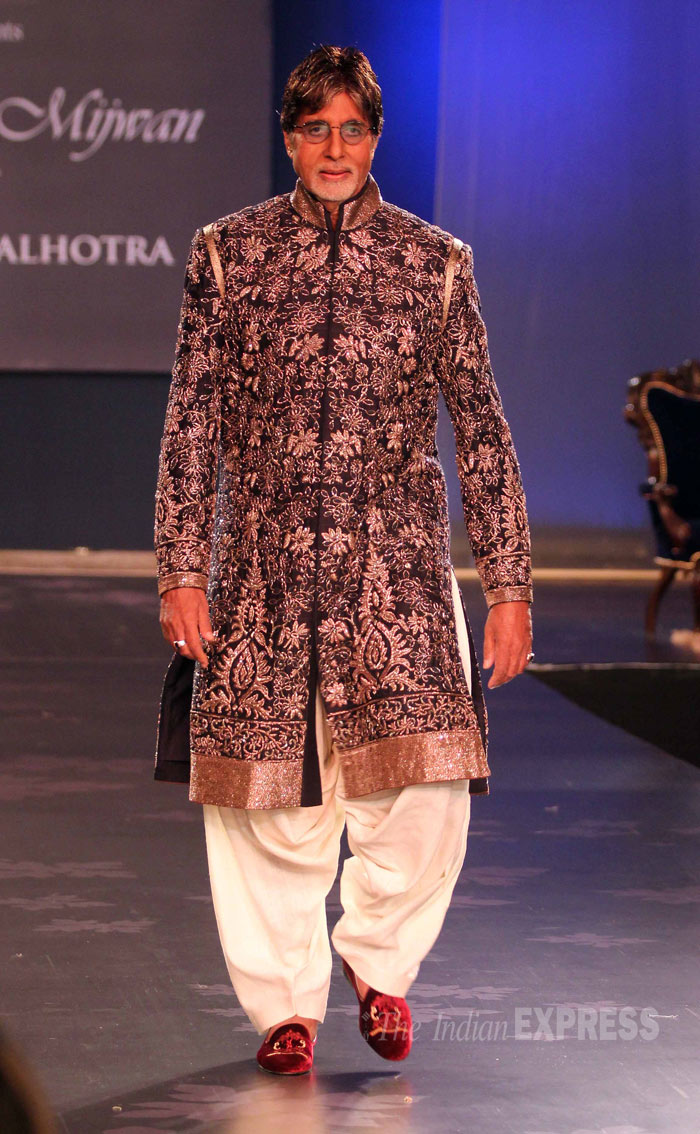 He completed the ensemble with a simple white dhoti-like pyjama. You can choose to wear this at your wedding, if you like. The complete look surely sounds comfortable.
3. Ranveer Singh
You know this guy is quite a favourite among the ladies. Ask your fiancee, she will not stop gushing about him! Nobody pulls off sass off Ranveer Singh! A few years ago, he wore a black ensemble  for a reality show that made him look both stylish and edgy! He did maintain a traditional appeal by wearing a well-fitted Indo-Western jacket along with extremely stylish dhoti pants.
You can wear ensemble at your engagement function. Black is one colour that suits everyone – irrespective of gender. But it also makes you look thinner and fitter. Who wouldn't want to look like that?
4. Anil Kapoor
He is going to be 60 years old this year – can you believe it? Nope, you can't and neither could we! Anil Kapoor is one of the most versatile actors in Bollywood. Even today, he can give any 20 or 30 year old a run for his money.
He is wild, unabashed and extremely confident about himself. And we totally respect that about him. Even though he pulls off western clothing like a pro, he also looks good in traditional attire. Once he walked the ramp for luxury fashion designer Raghavendra Rathore where he wore a black and white kurta and pyjama.
But there was a catch – he added character to the look with an embroidered vest that made him look his dashing self. Even though this ensemble is not so elaborate, you can wear it during the day – when the other ceremonies are going on. At least you will strut around in style!
5. Shahid Kapoor
Even though he tied the knot almost a year ago, we still can't get over the white sherwani and churidar he wore at his wedding. He looked perfect in it. What really stood out in that ensemble was the intricate designs on the sherwani.
If you are having a day wedding, then you can certainly rock this attire like a pro. And the results will even be better if you and your spouse-to-be plan the colours and designs of your respective wedding attire.
Shahid and his new bride, Mira Rajput colour coordinated for that ceremony's outfit. And they looked spectacular as husband and wife. What do you think?
Of course, we don't say you have to follow each and every actor's style here. But we do advise you to create your own style – as per your comfort factor and budget – to look your best during the functions. Dressing up is not just a bride-to-be's right. It is your right too. So make the most of it!